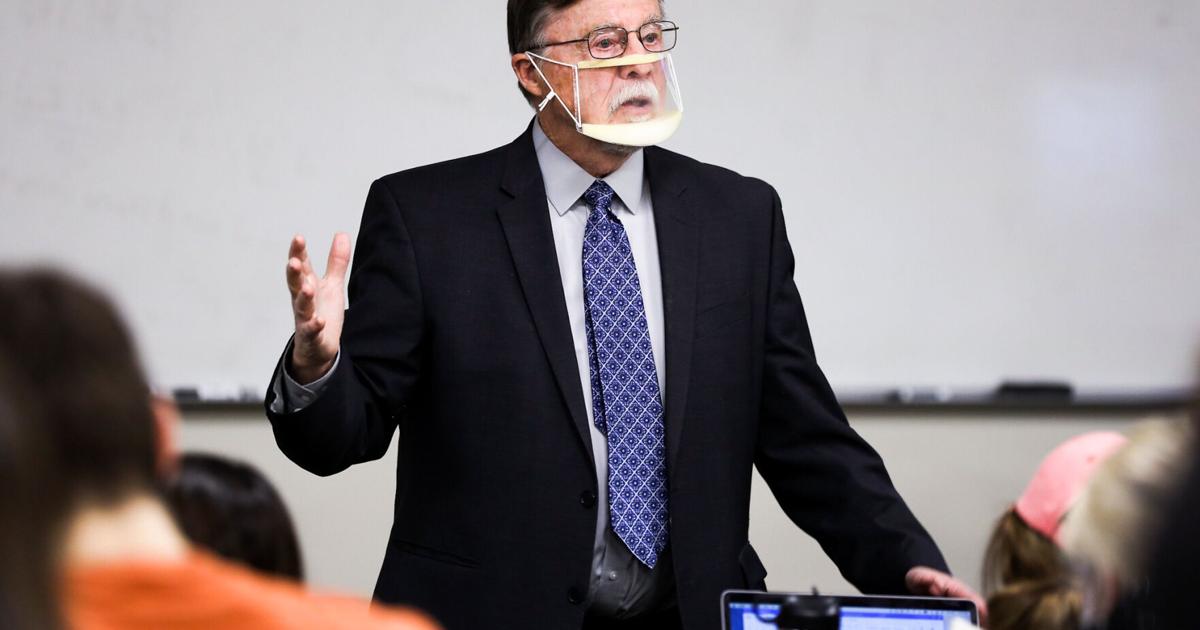 Business law professor 'Law Dog' nears 50th year with GU | Culture & Leisure
When Donald Hackney first enrolled at Gonzaga University in 1966, the kid from Kennewick couldn't have imagined that his office, 47 years later, would be sitting in a riverside coal dump .
In a few twists and turns, the Jepson Center was erected in 1987 and the "Law Dog" moved into his office on the second floor of the business school when he was hired full-time by GU in 2006 .
Known for teaching business law to sophomores — either to their delight or chagrin, depending on who you ask — the roots of the "Law Dog" moniker are ambiguous. Professor Andrew Brajcich accuses Hackney of giving himself the nickname.
For what it's worth, Hackney can't remember if it was him or a student who came up with the nickname. What is certain is that the name has stuck, so much so that the beginning of each lecture features a slide with the official "Law Dog" logo of a growling bulldog.
Hackney has the unique distinction of having nearly every GU business student pass through his class since he started teaching in 1974. If Hackney misses a student in the class, he also gives a speech to prospective GU students during the weekend FREEZE on business as a precautionary call.
"I got it for business law when I was an undergraduate, so I met Professor Hackney in 1979," said acting provost and 1981 graduate Ken Anderson. "He's taught every section of business law for most of his time here, certainly since he's been full-time. Because of that, he knows so many people.
Outside of business law (formerly called law, business, and society), Hackney's fingerprints are all over Zags' education within business school. Creating an exhaustive list of Hackney's involvement with GU may be impossible.
Not only was he a leading advocate for the law and public policy focus, Hackney served on the GU Board of Directors for over 25 years, is a club advisor for Alpha Kappa Psi, an active member of the GU Alumni Association, all while conducting research on the Logan neighborhood and bankruptcy filings in Washington.
Hackney's journey began in the Pacific Northwest at a family peppermint farm outside of Kennewick where he began working with his parents and siblings at the age of seven.
As he explains his roots, Hackney methodically moves through his office. The walls are filled with biographies on Alexis de Tocqueville and Benjamin Franklin among other books like "The Federalist". He pauses to admire a picture amidst the thick white binders containing legal jargon about natural law. The black and white photograph depicts a young Hackney with his aunt, uncle, parents and siblings on the farm.
"I grew up in a lifestyle that pretty much disappeared in the countryside," Hackney said. "As soon as you are old enough to do anything, you are part of an economic enterprise because everyone is working. You know, I look back and think how lucky I was to learn how to work. I don't consider that I was punished for having to work in the fields, it was a blessing for me.
Through blissful ignorance and slight divine intervention, the self-proclaimed "cradle Catholic" decided he would date Gonzaga and become a lawyer at the age of 14.
"I never had an ounce of hindsight or fear in me," Hackney said. "I remember going to see a Jesuit who came from Gonzaga when I was in college. I went up and introduced myself to him and said, "I'm coming to Gonzaga."
Hackney attended a year at a junior college in the Columbia Basin before transferring to GU as a sophomore.
The "Law Dog" left GU for a brief two-year stint in the military at the height of the Vietnam War after graduation. Hackney was first deployed to Fort Riley before training for war games in Germany, eventually settling at Fort Benning in Georgia.
"There's my Infantry School Airborne certificate, which means I jumped perfectly good planes," Hackney said, pointing to his shelf with a laugh. "I got to Fort Riley and they cut their officer strength so low because they were sending people to Vietnam. They froze orders for a while to rebuild things, and that kept me from going to Vietnam.
Within two weeks of returning, Hackney was enrolled in GU Law School and has not left since. Although he practiced in Spokane as a lawyer for decades, he began teaching the infamous business law course immediately after graduation, as GU was in a rush to become an adjunct professor.
"I think he has a deeper understanding of what it means to be a Zag than anyone else who's here," said Dan Stewart, director of the Hogan Entrepreneurial Leadership Program. "He's seen it both ways as a student, as a faculty member, and as an administrator. He understands the history and roots of the school.
Hackney's tenure at GU is one of the benchmarks. Since arriving in the late 1960s, Hackney has experienced the ups and downs the university endured throughout the second half of the 20and century as Jesuits and their counterparts fought to keep the doors open to GU.
"The basketball team was booming and in 1999 it all took off," Hackney said, referring to the Zags' first Elite Eight run. "We've gone from classes of 500 people to nearly 1,000. People can congratulate each other all they want. The reason Gonzaga is a name people know is because of basketball.
However, Hackney is quick to credit the work of Father Bernard Coughlin and his predecessor Bob Spitzer for their pivotal role in developing the GU campus into its current form. Hackney estimates that Spitzer constructed nearly 50 buildings on campus during his tenure.
"I want to say, [Coughlin] kept the heat on, he kept the place open," Hackney said. "He straightened out some things and went out there and hustled some money. Barney is in the pantheon of Gonzaga saints. He's number one for doing it.
While Hackney shared the Gonzaga campus with these GU patron saints, he was also busy running a promotions company, various construction crews, developing land, and running his own law firm as a senior partner. . The "Law Dog" has endured its fair share of dissolved partnerships, but despite the rotation of names from Lawson to Delaney, Hackney's name still remained on the panel up front.
"I really didn't want to work for someone else. I don't think it ever occurred to me that there are a lot of mechanical issues with running a law firm," Hackney said. "I've always been one to 'jump in the pond and figure out what's in it after I'm there'. I'm a bit of a risk taker so I just hung a shingle.
The promotions company run by his wife, Wildrose Graphics, is the Kennel Club's main merchandise supplier.
"We take all these psychological tests that tell you what you are. Well, I'm an entrepreneur," Hackney said. "I have a kind of affection for people who go out and do things and do things. People jumping into ships and trying to discover new worlds. My sympathies go out to these people.
Not one to backtrack, the "Law Dog" is incredibly comfortable with the life his 14-year-old self set in motion in college. As he leans back in his office chair, a small glass jar of pure peppermint extract sits in front of his computer to remind him of his farming roots in Kennewick.
"There's a real tendency, when you're 20, to put off all the big questions and go about your life distracted. Nobody wants to get too serious," Hackney reflected. calm where you are not distracted and get in touch with your inner voice. This is how God speaks to us. If you are just into chaos, loud music, nonsense, video games and social texting and all that, you can never reach that quiet place.
When he's not gathering his business law students in the Wolff Auditorium, he can be found in his office, whether it's a weekend or a holiday. During the COVID-19 pandemic, when the campus was without students, Hackney and Stewart would indulge in a drink while walking around the campus that the "Law Dog" saw emerging from his former industrial modesty.
Although Hackney hasn't divulged any sort of retirement plans consisting of rides into the proverbial sunset, when he inevitably decides to hang it up, GU will lose more than two generations of experience. A portal to the past will close and a new ancient statesman will assume Hackney's post. Some acts are impossible to follow and as he nears 50and year, Hackney made the job of his successor incredibly difficult.
"The good Lord only gives each of us so many years, what I call that side of the grass, you know, and I've had a wonderful life," Hackney said. "I was able to work for years when many of my colleagues are retired. I think people need work and have been made to work and I like that. I love to teach. I derive great personal satisfaction from being able to do this kind of thing.